Lodges in Tanzania can vary in luxury, and they are located in or near national park. Most of the lodges that Bunda Adventures books with are full service facilities with private rooms or cottages with private washrooms. They all have restaurants (with inclusive meals), lounges, and many are architecturally striking made with local materials and inspired by local designs and the environment. Some lodges have swimming pools and some can accommodate up to 200 guests.
Some examples of lodges Bunda Adventure uses:
Gibbs Farm
Gibbs Farm is located in Karatu, which is situated in between the Ngorongoro Crater and Lake Manyara. Not only is it in the perfect position to explore these two regions, but it is also very quiet and relaxing and away from the tourist crowds.
There are 18 cottages on the property, which are surrounded by lush gardens and amazing views of coffee plantations and other farmlands. Gibbs farm has an extremely good relationship with the local community, and it produces most of the food that they serve to guests.
Gibbs Farm offers much more than just game viewing opportunities. There are numerous walks, mountain biking trails, and a spa. So while it is a predominantly a great spot for energetic individuals, it also offers plenty of opportunities to relax and just enjoy the surroundings.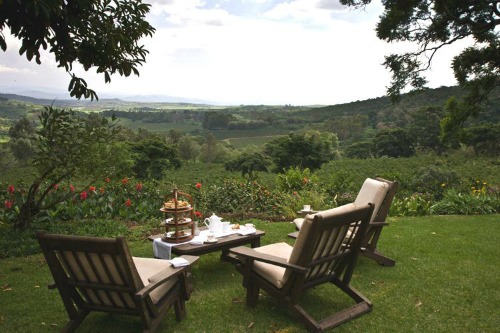 Rivertrees Country Inn
Rivertrees Country Inn is situated between Arusha Town and Kilimanjaro International Airport -It is approximately a thirty minute drive from Arusha and a twenty minute drive from Kilimanjaro International Airport. The Inn consists of 13 rooms surrounded by four hectares of lush gardens, and on a clear day it is possible to see both Mount Meru and Mount Kilimanjaro.
Due to its location, it is a great place to stay prior to or at the end of a safari. This lodge has a very relaxed and comfortable atmosphere, and there are also a wide variety of activities available. Guests can walk or bike trails near the lodge, visit a local village, horseback ride at a nearby farm, or get a coffee plantation tour.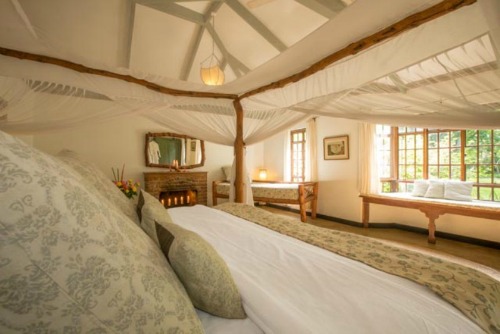 Ngorongoro Wildlife Lodge
Ngorongoro Wildlife Lodge is a member of the Wildlife Lodge Chain, which has Wildlife Lodges Tanzania in several areas in Tanzania including Tarangire National Park, Lake Manyara National Park, Ngorongoro Conservation Area, and Serengeti National Park. These lodges are all located in good game viewing spots, and in the heart of the parks with reasonable prices.
Ngorongoro Wildlife Lodge is in a prime location on the rim of the crater with astonishing views. It consists of 80 rooms that all have a view of the crater, and the price is reasonable considering its location and proximity to game viewing opportunities.

Serengeti Sopa Lodge
Serengeti Sopa Lodge is a member of the Sopa chain which includes Tarangire Sopa Lodge and Ngorongoro Sopa Lodge. It is quite a large hotel, with 73 rooms and all the facilities one would expect for a lodge of this size.
The Serengeti Sopa Lodge is approximately an hour drive from the Serengeti Naabi Hill gate and approximately forty minutes from Central Serengeti (Seronera). The lodge is located in the south-western region of the Serengeti, and is positioned on a hill which offers fantastic views of the plains.

Mivumo River Lodge
Mivumo River Lodge is located on the banks of the Rufiji River in Selous Game Reserve. This is a high quality and striking lodge. There are 12 rooms, and each room has a small private pool, and a beautiful outdoor shower. Although it is a stunning lodge, it is located a fair distance away from regions with high game density, and it is usually a full-day game drive to see all the animals.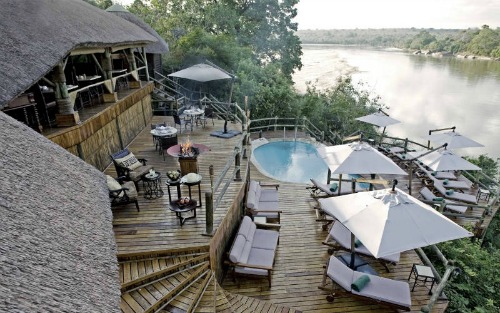 Serengeti Serena Safari Lodge
Serengeti Serena Safari Lodges is located in the Serengeti National Park, and it is a member of the Serena chain with other lodges in the Ngorongoro Conservation Area and Lake Manyara National Park.
Serengeti Serena Safari Lodge consists of 66 rooms and is located on the Kyabatero Hills, which is northwest of central Serengeti. Due to its location on the hills, it has stunning views of the plains, which in turn makes it a very busy lodge.